Royal Card
---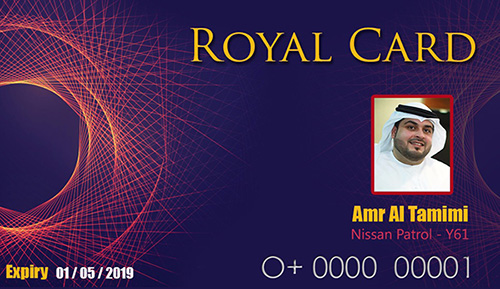 Dear Valued Member,
In line with our club's strategic vision to provide our members with world-class initiatives, your Marketing Team is proud to present you our member's loyalty program.
Welcome to a world of prestige … welcome to a world of Royalty.
WHAT IS THE ROYAL CARD?
The Royal Card is a privilege card that opens a world of rewards to our members. The card is not compulsory to be a member of UAEOFFROADERS but is instead a value-added benefit to our esteemed members to recognize their loyalty.
The Royal Card will grant you exclusive discounts and offers worthy only for the royalty. Promotions provided in the card range from shopping center offers, retail services, off-roading accessories & services, food & beverage offers, and activities.
With the Royal Card, your opportunities are now endless.
HOW TO APPLY FOR THE ROYAL CARD?
Members that have completed 5 (five) trips with the club are eligible to apply for the card. Kindly follow the link below, or the website's homepage banner to access the card's registration form. Upon completing the Registration Form, your card will be delivered to you.
CARD FEES:
Registration and card issuance fees – AED 100
Supplementary card – AED 50
Renewal fees – AED 50
Card replacement fees – AED 50
Card feeds can be made in cash payment upon card delivery.
FURTHER COMMUNICATIONS:
For further questions, comments, and inquiries kindly email us at royalcard@uaeoffroaders.com
UAE OFFROADERS CLUB MARKETING TEAM .
Click here for Royal Card Registration